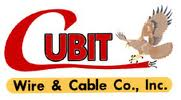 June 15, 2013
Cubit Wire
It is with mixed emotions that we announce that Hueson Wire has acquired many of the assets of Cubit Wire formerly of Holyoke, MA.
Originally founded as American Braiding Company in 1918 this Holyoke, MA Company was one of the first insulators of wire and cable. The name was changed to American Electric  Cable and during their heyday AEC was operating 3 shifts out of a 55,000 square foot facility and was a significant supplier to hundreds of companies including Allen Bradley-Rockwell, Emerson Electric and Monster Cable to name a few.
AEC's struggles started in the early 2000's and through their 9 years as Cubit Wire. Unable to adjust to the modern manufacturing times the company closed their doors on February 15th of this year.
Five floors of equipment were sold at auction and Hueson Wire acquired a significant share of the equipment including all tooling, drawings, UL styles and processing data for all of the custom cables Cubit manufactured.
While it is a disappointing to see one of the wire and cable industries original manufacturers fall to the wayside it is a great opportunity for Hueson Wire to add additional equipment and manufacturing capabilities. During the upcoming months we will be evaluating the products and capabilities and merging the segments that fit in with our core capabilities.
Visit the Hueson Wire & Cable web site to learn more about their American-made wire and cable products and custom design services.